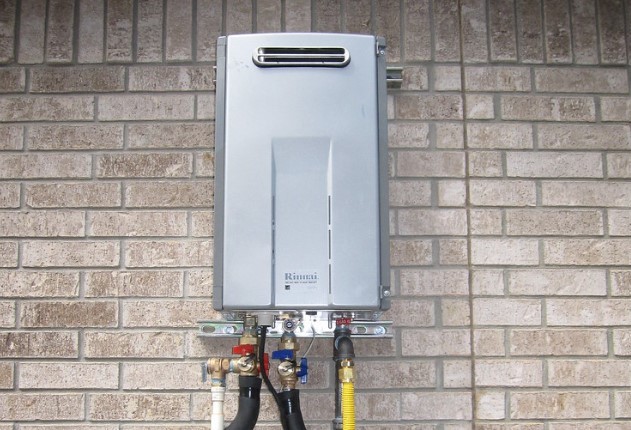 Tankless water heaters are the hottest trend on the market! They are more expensive up front but will provide you with hot water continuously. Not only are tankless water heaters great for saving money, but they also save a considerable amount of space. These modern heaters are less than half the height and size of traditional water heaters and are usually mounted to the wall. Depending on the climate you may be able to choose between an indoor or outdoor model which will save you precious indoor real estate. These energy-efficient tankless water heaters use a built-in coil mechanism that heats water when you need it. This allows you to always have hot water. This efficient method ends up saving homeowners thousands of dollars over the lifespan of the product.
Tankless heaters operate at greater than 80% efficiency while the most efficient traditional gas water heaters operate at 67% efficiency. They also save additional energy because water is not constantly heated, cooled, and reheated within a storage tank. Tankless heaters maintain efficiency over time as they are not at risk of sediment build-up and efficiency decline like traditional water heaters. Additionally, consider that a standard water heater will usually last 8-12 years. Tankless heaters can perform well for 20-30 years. Built with top-of-the-line materials and components these modern water heaters are much less susceptible to leaks, rust, and breakdown. With longevity in their lifespan, homeowners will find that having a tankless water heater will increase the resale value of their home.
There is a drawback to tankless water heaters. Tankless water heaters provide a limited quantity of hot water per minute. Typically flow rates for tankless heaters are between 4-8 gallons/minute which means that tankless water heaters may not be ideal for families running multiple hot water sources at one time. Whether your goal is to save money, space, or Mother Earth, consider an indoor or outdoor tankless water heater. You won't miss having to wait for hot water ever again.
Pros:
More energy efficient.
Hot water on demand.
Long-term financial savings
Smaller footprint/Space-saving
Indoor or outdoor options (climate dependent)
Longer lasting produce
The increased resale value of the home
Cons:
Offer a limited amount of hot water per minute
Not ideal for large families
High upfront cost
Are you tired of waiting for your water heater to catch up with your usage? Feel like you're always running out of hot water? At Thumbs Up Rooter, we offer a solution for efficient and immediate access to hot water. Our water heater technicians and the team can install a tankless system quickly that provides all of the hot water you need. This system is installed by placing it within your existing water line and creates hot water on demand. By using gas or electric power, a tankless water heater can heat water quickly and without having to store it in a tank. You can have all the hot water you need in a matter of a few hours of installation.

Consider the following indicators to determine if your home is a perfect fit for a tankless water heater:
Homes with busy families. These water heaters provide enough hot water to run the laundry, and dishwasher, bathe the kids and still have enough to enjoy a relaxing shower of your own.
Homes with luxury bathrooms or a deep tub. Master bathrooms are meant to be luxurious and having the right tankless water heater to fill your deep tub can be a necessity to ensure a peaceful and relaxing soak.
Vacation homes. Tankless water heaters heat water only when a demand for hot water is made which helps save energy over a traditional water heating system that continuously heats and stores water in anticipation of a hot water need. Why store hot water when it's not even being used? Tankless is a great way to go to save energy and the environment.
Tankless Water Heater Repair
Tankless hot water heaters are a great investment for your home or business. Although it's less common compared to tank water heaters, like any appliance or material possession, potential problems can arise. Here are six of the most common problems and maintenance concerns that you could experience with your tankless hot water heater.
Mineral Buildup: Depending on the hardness of your water, you may experience minimal buildup. Typical culprits of this are calcium and/or magnesium in your water. Prevention is key to this issue. You can install a water softener to the front end of the system, or you could perform a yearly flush to avoid the build-up of the scaly minerals. Many versions of tankless heaters have sensors to detect the mineral build-up to signal maintenance or for you to flush the water from the system.
System Overload: Each system is equipped to provide a certain amount of hot water per minute. If your family or household exceeds this measure then you may experience system overload. Each tank is labeled with its FHR, the first-hour rating (FHR). The first-hour rating is the measure of how much hot water the heater will deliver during a busy hour, typically first thing in the morning when household members are showering. The FHR is on the heater's yellow EnergyGuide label. Basically, system overload is when the system isn't able to keep up with the demand. Installing the correct size system and FHR from the get-go is key to system overload prevention. Unexpected increase in family size or demand? Consult with us as your professionals to determine how to remedy this problem.
Cold Water Sandwich: This isn't a huge problem at all, but rather a misunderstanding or inconvenience of the system. Here's how it works: One family member takes a hot shower. A few minutes later another family member hops in the do the same. They're greeted with a warm flow of water, followed by a few seconds of cold water, followed by hot water again. This isn't a malfunction of the tankless heater. Rather, warm water from the first shower was left in the pipes and experienced by the second bather, before the new water entered the system from the second shower. It's only a few seconds of cold water, but it comes unexpectedly to the bather. As a safe measure, just water 10-15 seconds before you enter the shower after another family member has bathed.
Air Supply or Exhaust Blockage Message: Your tankless water heater is equipped to detect any air supply deficits or blockages. If you see this message, there likely is an occlusion, combusting, or problem with venting. This can be caused by vent pipes being improperly connected, or holes in the piping. Check to see if you can visualize anything that looks, suspect. A professional plumber can use equipment to detect the smallest holes and leaks. Perhaps a blockage is causing the leak. These blockages can be anything from nests, rodents, or other debris. You may be able to see a blockage in the line yourself, but it also may be hidden inside the fan motor or a less obvious part of the system. As always, call a professional if you're not familiar with water heater maintenance or repair. No Ignition Message- If you see a "no ignition" message your tank may be trying to light but unable to. This is typically due to insufficient gas supply. This could be due to simply an empty propane gas tank, an unpaid gas bill, or more unlikely cause a blockage in the gas line. We can quickly and easily diagnose this failure.
Flame Failure Message: This message could be similar in culprit as the "no ignition message", or it could be a different gas or electrical issue. Often times there is insufficient gas pressure or a different electrical issue. If the gas line is too small then you may have a problem with proper ignition, regulator failure, or difficulty with combustion or venting. We have the proper and safe equipment to diagnose this problem. Likely if it's not related to gas pressure then there is an underlying electrical issue that can be addressed.
We will always give you an estimate before we start the job and always double check, clean our work area, and test run all our work before we leave any job. Our plumbers are always ready with quick response offering professional service and reasonable pricing in drain, sewer cleaning and emergency water, gas, plumbing services.
Thumbs-Up Rooter & Plumbing is a full plumbing service, serving the entire Bay Area including Oakland, Berkeley, Alameda, Hayward, Richmond, Moraga, Lafayette, Orinda, Walnut Creek, Concord, Alamo, Dublin, Pleasanton, San Ramon, San Francisco and further out with same day appointments.